---
More Experience, More Homes Sold!
Whether you're planning to buy or sell Guelph real estate or a home in the surrounding area, the Dean Manton Team is committed to exceeding your expectations! Experienced Guelph real estate agents, we are dedicated to finding you the perfect home or making sure you receive top dollar for the home you are planning to sell. When choosing a Guelph real estate agent, it's important to choose a top agent that you can trust. Our success is built on referrals and repeat business from satisfied clients. We work hard to earn them! Call us today and Upgrade Your Agent!


---
The Dean Manton Team – RE/MAX Real Estate Centre Inc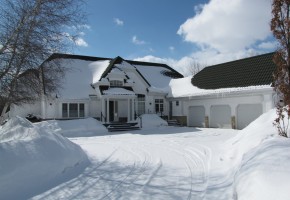 Custom Bungalow on 40 acres with shop & optional greenhouse 5810 … View This Property
Guelph Real Estate Blog

March 3, 2014 by Dean Manton · Leave a Comment
Guelph Spring Real Estate. You might think that snow and cold temperatures would delay the beginning of the Guelph Spring Real Estate market by six weeks or more but many home buyers braved the February chill despite the ground hog's gloomy prediction. In fact, February's sales statistics are enough to make me question the theory that weather can have an effect on the real estate market at all. Actually our surprisingly robust 135 sales for the month was just slightly less than a much warmer February 2013. If it weren't for a serious lack of inventory, we could have easily surpassed last … [Read More...]

February 5, 2014 by Dean Manton · Leave a Comment
Sellers's Market for Sellers and Landlords. One of the things I look forward to every January is the Guelph Real Estate Pulse Conference. It's organized each year by The Guelph Mortgage Centre and always features an interesting line-up of speakers. It's a must for anyone who works in real estate or interested in the real estate market, especially investors. This year's line-up included Guelph Mayor Karen Farbridge, President of The Mortgage Centre Christopher Bisson and Market Analyst Anthony Passarelli from CMHC. Mayor Farbridge shared her annual State of the City update. She talked … [Read More...]

January 28, 2014 by Dean Manton · Leave a Comment
Mississauga, ON (January 28, 2013) – Luxury Home Market Posts Record Sales in 2013. Significant gains at the top end of the country's housing market continued to demonstrate the overall strength of Canadian real estate in 2013, according to a report released today by RE/MAX. "Canada's luxury housing market has undergone serious transformation in recent years, setting a new standard for lifestyles of the rich and famous," says Gurinder Sandhu, Executive Vice President and Regional Director, RE/MAX Ontario-Atlantic Canada. "High-end homes are commanding top dollar in blue chip neighbourhoods from … [Read More...]

January 6, 2014 by Dean Manton · Leave a Comment
Guelph Housing Market on Solid Ground for 2014By Dean MantonThere's good news if you're considering selling your home this year. Guelph can expect an exceptionally healthy housing market in 2014 thanks to improvements in the Canadian economy that helped produce a surge in the real estate market during the latter half of 2013. Canadian home sales are expected to climb two per cent on average this year and property values should increase by an average of 3 percent nationally, although the Guelph real estate market should out-perform any national predictions.After a slow start in … [Read More...]
About:
Dean Manton, Guelph real estate broker at ReMax Real Estate Centre. We know Guelph real estate, the neighbourhoods and the community. Are you selling your home or looking for knowledgeable insight into homes for sale in Guelph,
contact The Dean Manton Team today
. Be notified of homes for sale in Guelph by email, sign up to your own
personal Guelph MLS listings search
. You will be emailed Guelph home and real estate listings that are added daily to MLS.